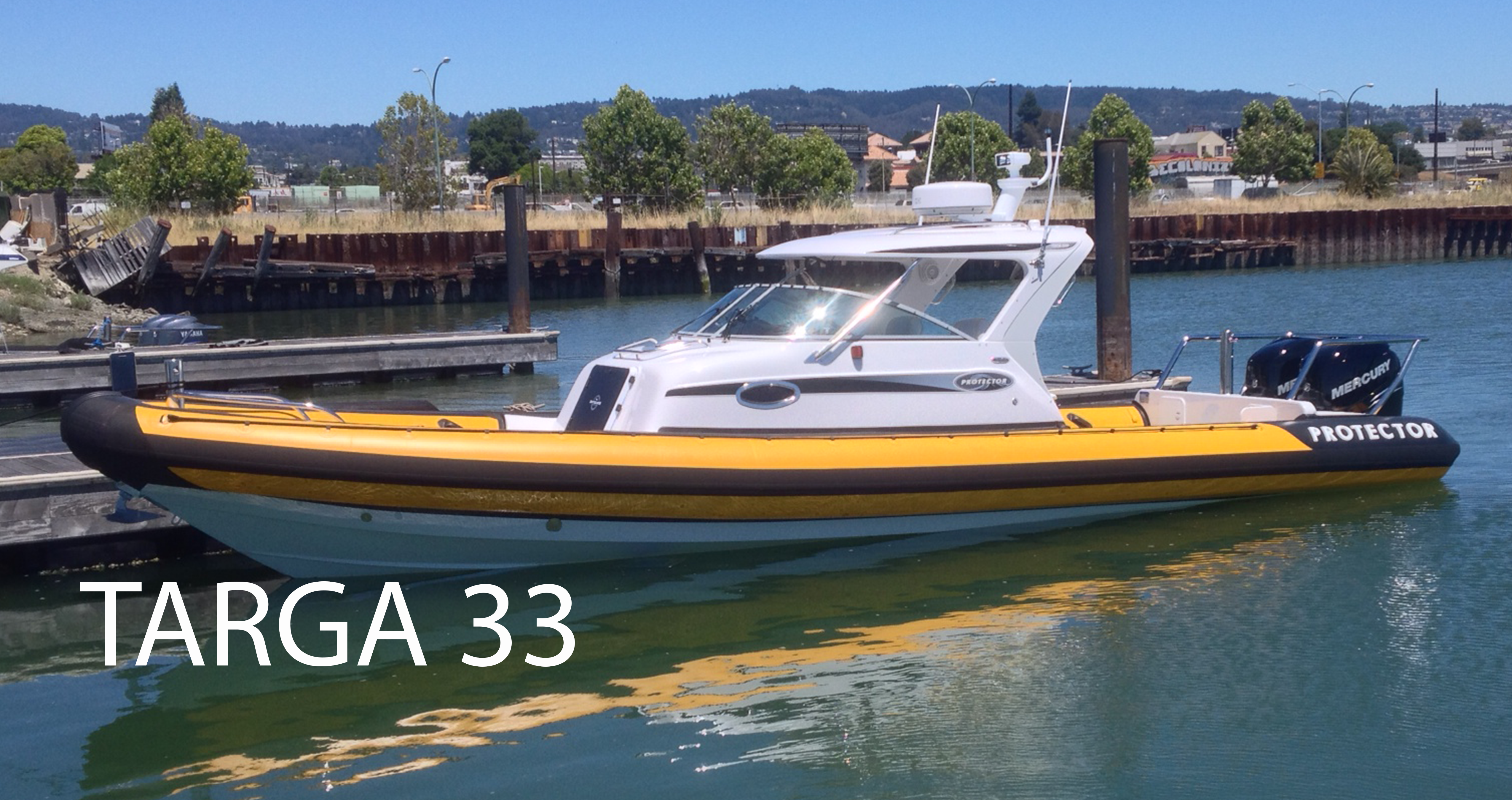 Protector BoatsTARGA 33
Adventure expeditions were made for this boat.
The Protector Boats TARGA 33 is the largest of the TARGA line, and builds on the excellence of the TARGA 30 with an extra 3 feet of space for enhanced performance, entertaining and storage. The increased waterline and displacement allows the boat more freedom offshore and will give full confidence for trips to Block Island, Catalina or wherever you need to go. A secure and enclosed helm position keeps the captain and crew safe from the elements but with a 360 degree unimpeded view of their surroundings.
Ideal for many uses, from fast, safe and comfortable family cruising, to supporting and towing an America's Cup yacht in and out of harbor, the TARGA 33 is an perfect option for the discerning owner who knows what they want. Still trailerable, she is the largest you can go without requiring permits.
"Protectors are tough, sturdy and fast RIBs that are built to handle most sea conditions safely and comfortably."
New design. More horsepower.
Increased length (vs. the TARGA 30) provides for increased speed and excellent handling while underway. Additional room in the cockpit with the newly designed luxury aft bench seat ensures guests are traveling in comfort.
Comfort and Class.
The newly designed dash holds large electronic displays of owner's choice, and the placement of the helm seat is ergonomically designed for even the largest of Captains.
From Bow Thruster to underwater lights, the option list is robust One of the favored options is the STIDD Shock Mitigating Captains chair, known for their use in military and USCG vessels due to their durability and functionality.
Precision-engineered hull construction.
Trusted by Search and Rescue.
The precision-engineered hull construction of each Protector model fills the Captain with confidence to go anywhere in safety and comfort. Each hull is solid hand-laid fiberglass using 24-ounce roven woving layers, building up until the hull is three-quarters-of-an-inch thick on the sides and one-and-a-half-inches thick at the keel.
This approach uses proven and reliable construction techniques, and Protector has had no hull failures since its first hull was produced in 1999. The rugged hull is surrounded by an inflatable Hypalon collar with seven baffled air chambers, this provides a suspension like effect, absorbing energy and reducing the feel of pounding into the waves. Go ahead. Go anywhere.
Also available as a Protector Center Console 33.
The TARGA 33 is also available in a Center Console 33, offering a practical option for a day boat or coach boat with a ton of deck space. in addition to the large aft luxury bench seat.
Length Overall: 33'6"
Waterline Length: 28'3"
Beam Inflated: 9'6"
Beam Deflated: 8'3"
Draft: 25" with average load
Weight: approx 8,400 lbs with engines, 9,600 lbs fully loaded with fuel & equipment
Fuel Capacity: 150 gallons
Deadrise (aft/fwd): 18°/57°
Max Horsepower: Twin 350 Outboards / Single Inboard Diesel
Person Capacity: 12
Top Speed: 58 MPH
Cruise Speed: 32 MPH
Range at Cruise: 290 miles
Need help comparing PROTECTOR models? Want to schedule a demo?