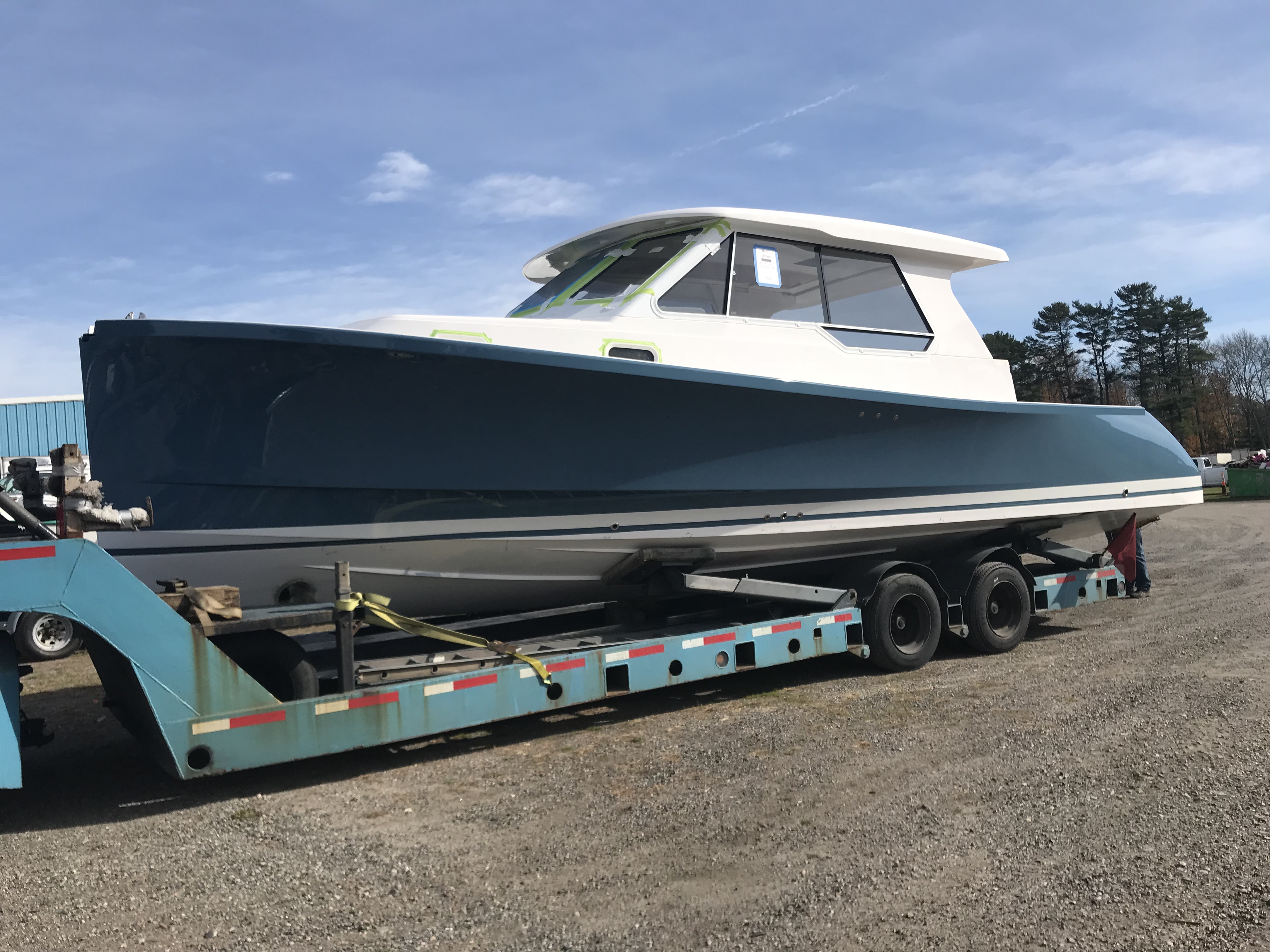 Launching Spring 2018. What a beauty! We are proud to be in the final stages of the build of a True North 34 Outboard Express. This go-anywhere, do anything classic New England powerboat fell into a dubious future when the original builder ceased operations. LC8 jumped right in for a seamless transition.
The result? A happy owner who is now benefiting from a semi-custom boat to fit their precise needs and requirements.
About this semi-custom True North 34 Build
When the owner took possession of their True North 34 from the original builder (US Watercraft in Warren, RI), and handed it to LC8 for completion, we essentially had an empty shell. With no time to spare we jumped straight into action. With careful project planning and attention to detail, we are on track to deliver the boat on time and on budget. More about the project below:
Custom Paint Job in Stars and Stripes Blue
We got straight to work, and jumped in with our painting specialist who completed the job with a glorious paint job that is sure to turn heads in many harbors.
Engine Installation and Systems
Next we began spec'ing the engine(s) with the owner and installing twin outboards, engine electronics, throttle controls, bow thruster and steering systems.
Marine Electronics, VHF and Sound System
LC8's expertise in networking and integration powered this True North 34, giving the owner a top of the line solution.
CONTACT US ABOUT TRUE NORTH SERVICE WORK
Interior Joinery, Woodwork and Finishing
LC8 completed the interior v-berth and salon areas to the owners specification.
True North 34- Lighting, Galley and Head Systems
LC8 installed all lighting, and systems for the galley and head.
Need Service work on your True North?
Contact Scott today if you need help with your True North Yacht.
CONTACT US ABOUT TRUE NORTH SERVICE WORK