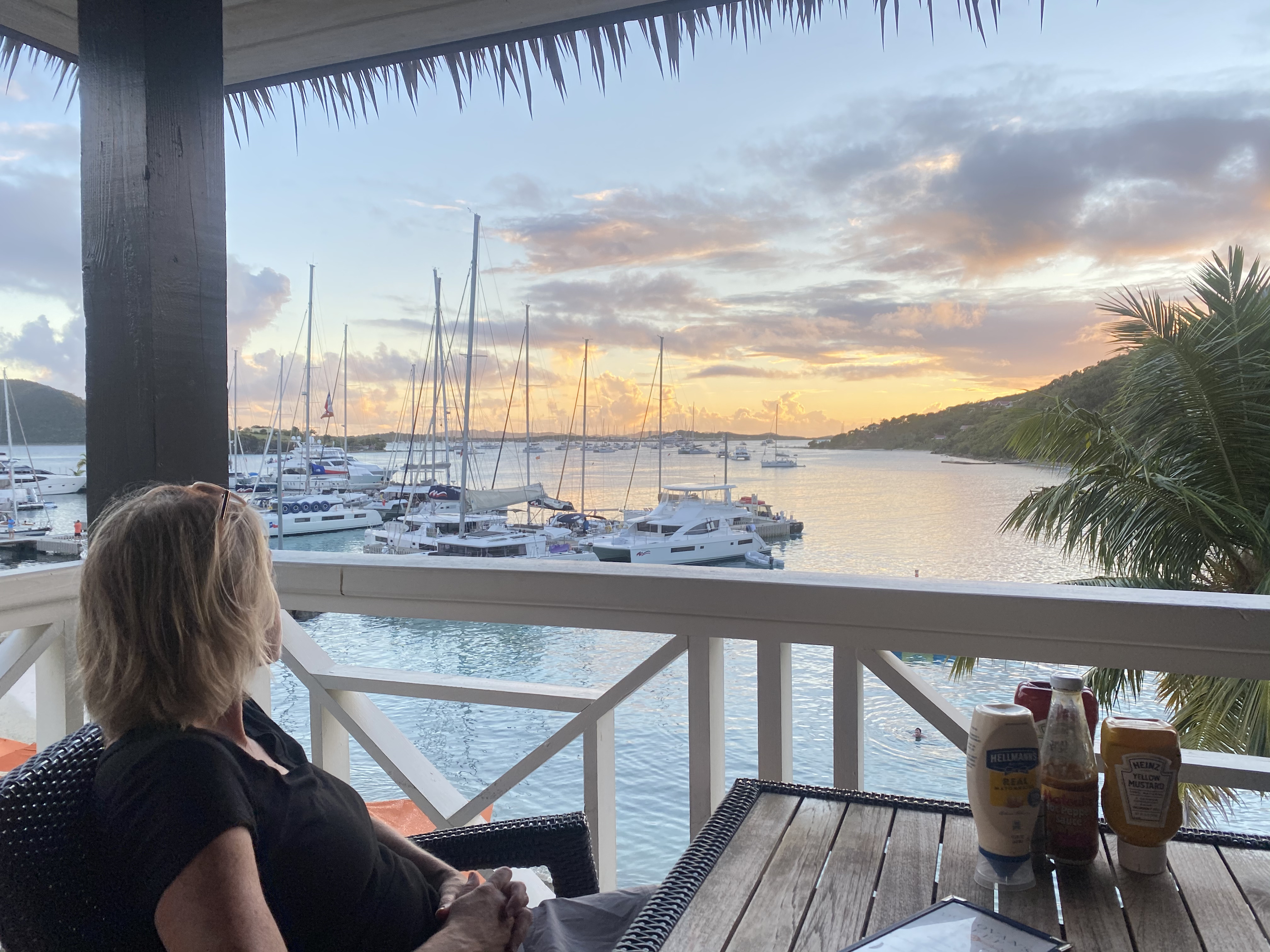 The BVI are "Back"
It's been two years since Hurricanes Irma and Maria have passed through the Caribbean and it's hard to believe the level of destruction that occurred. The BVI are now full of life with almost all businesses back up and running and the islands are abuzz with tourism. LC8's founder Scott Dyer just spent a week chartering a catamaran down there. Read about it below!
CAUTION: jealousy alert 🙂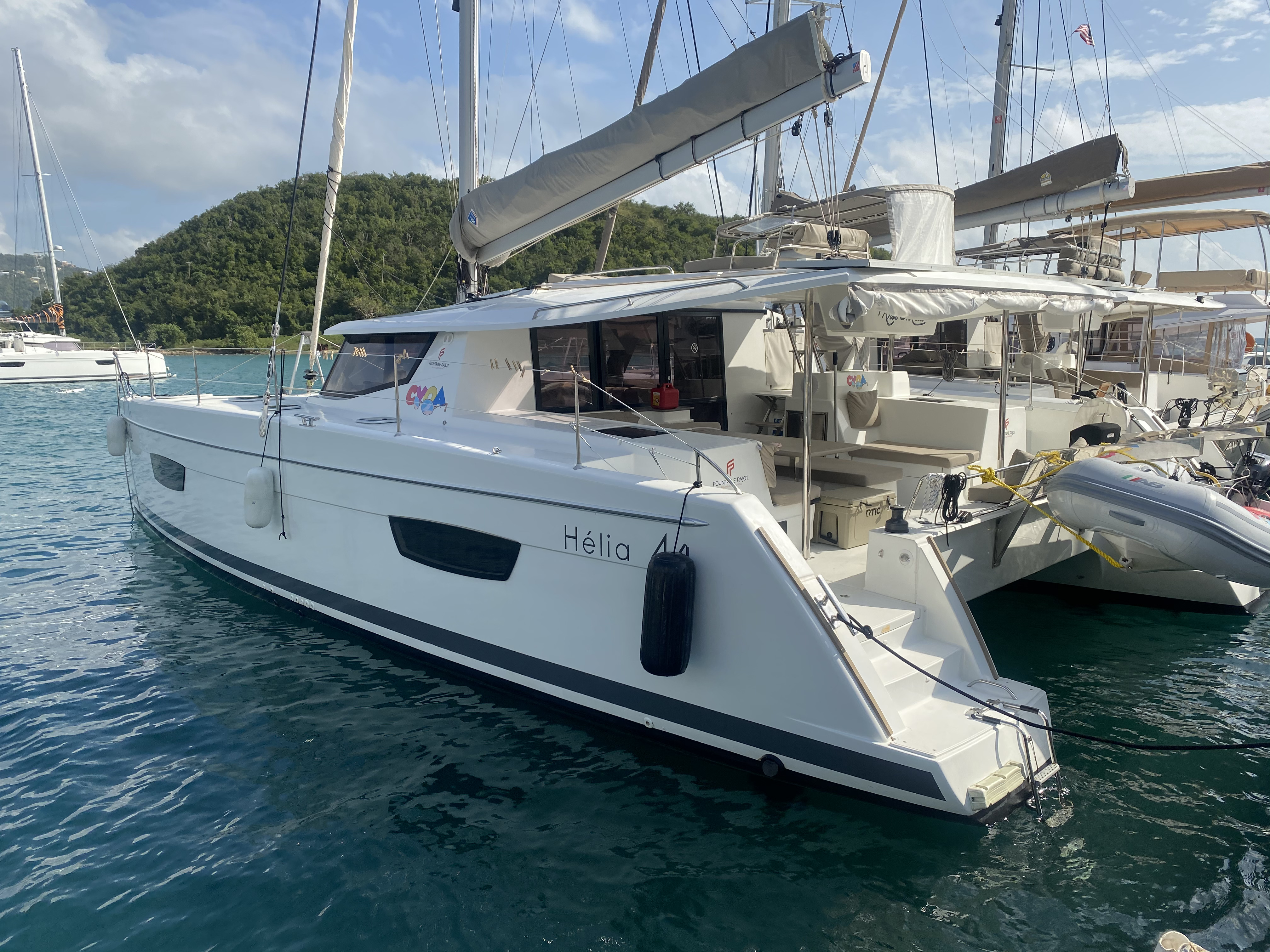 Home sweet home.
We arrived at the fine sailing yacht "Knot on Call" around 4pm the day after Christmas 2019 with a mini van bulging at the seams.  Spent the night on board and woke up refreshed and eager to set sail! After a complete briefing and orientation on the cat, we were off steaming out of Charlotte Amalie Harbor. Mahoe Bay in St John's here we come.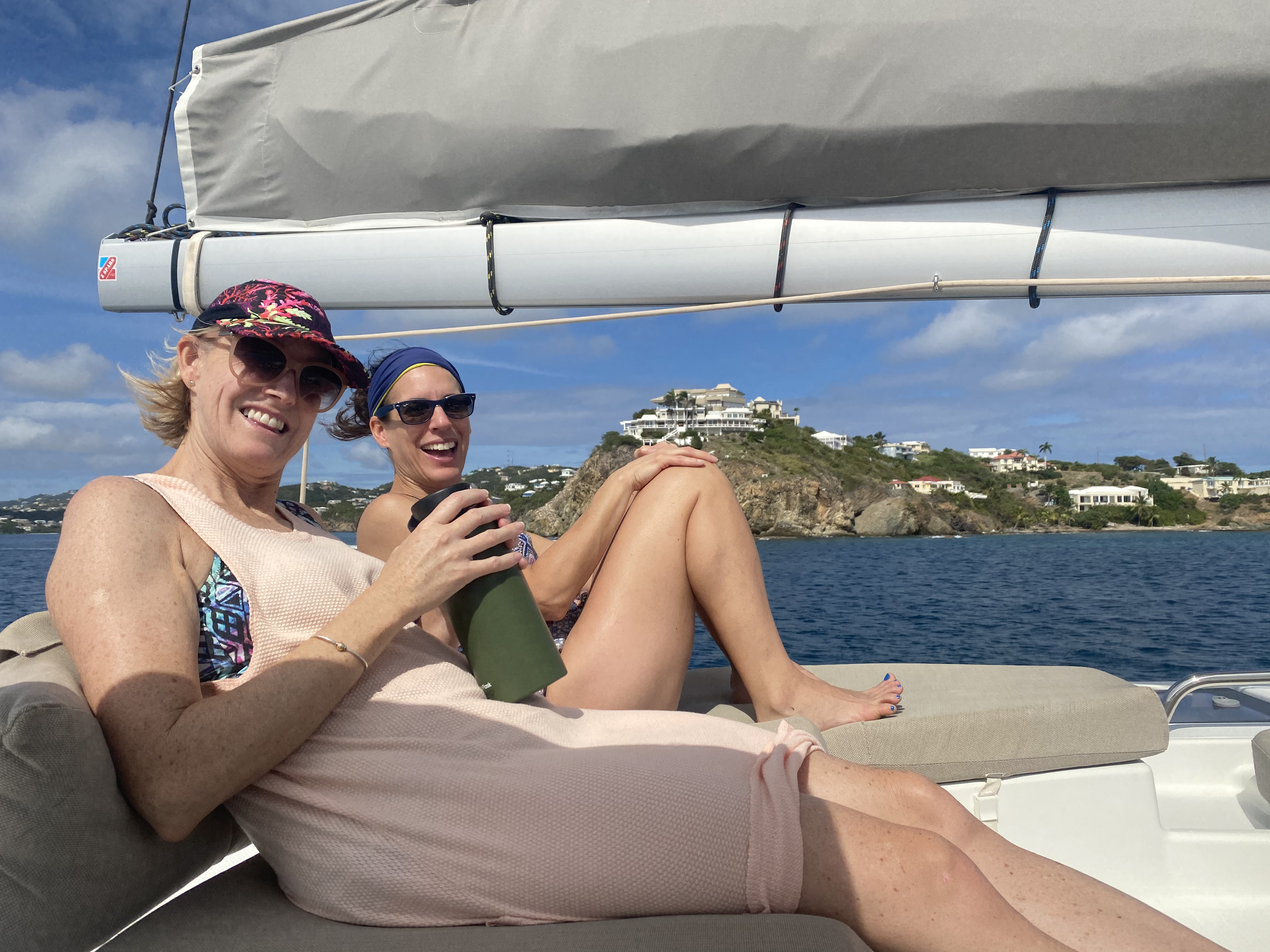 Island Girls
With the reality of our life back home becoming a distant memory, we steamed into Mahoe Bay with all smiles and grabbed a mooring ball to settle in for the afternoon. Before long we were in the water with masks and snorkels exploring the clear blue water. This was our first sighting of a sea turtle and would be a small sampling of many sightings to come.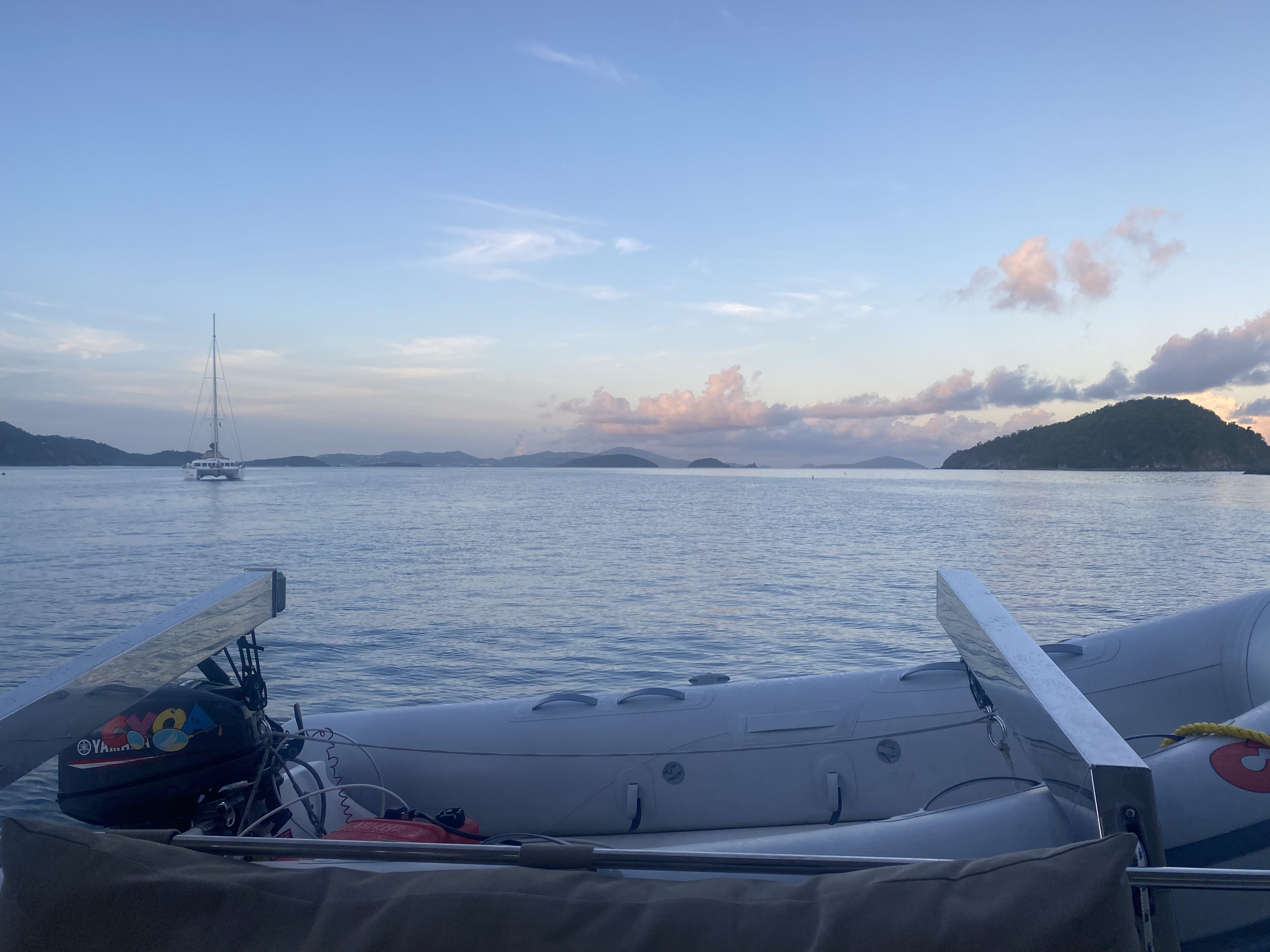 U-Turn
An early morning run to Tortola for customs clearance, ended in us quickly finding out that we had some missing areas in our paperwork! 20 minutes later and $965 down, we cleared into the BVIs!  I was in such a hurry to get to The Indians for some snorkeling that I forgot that we needed to hit a dock and fill the water tanks. Quick U-turn, and a few hundred dollars later for some fuel and water  we were steaming east!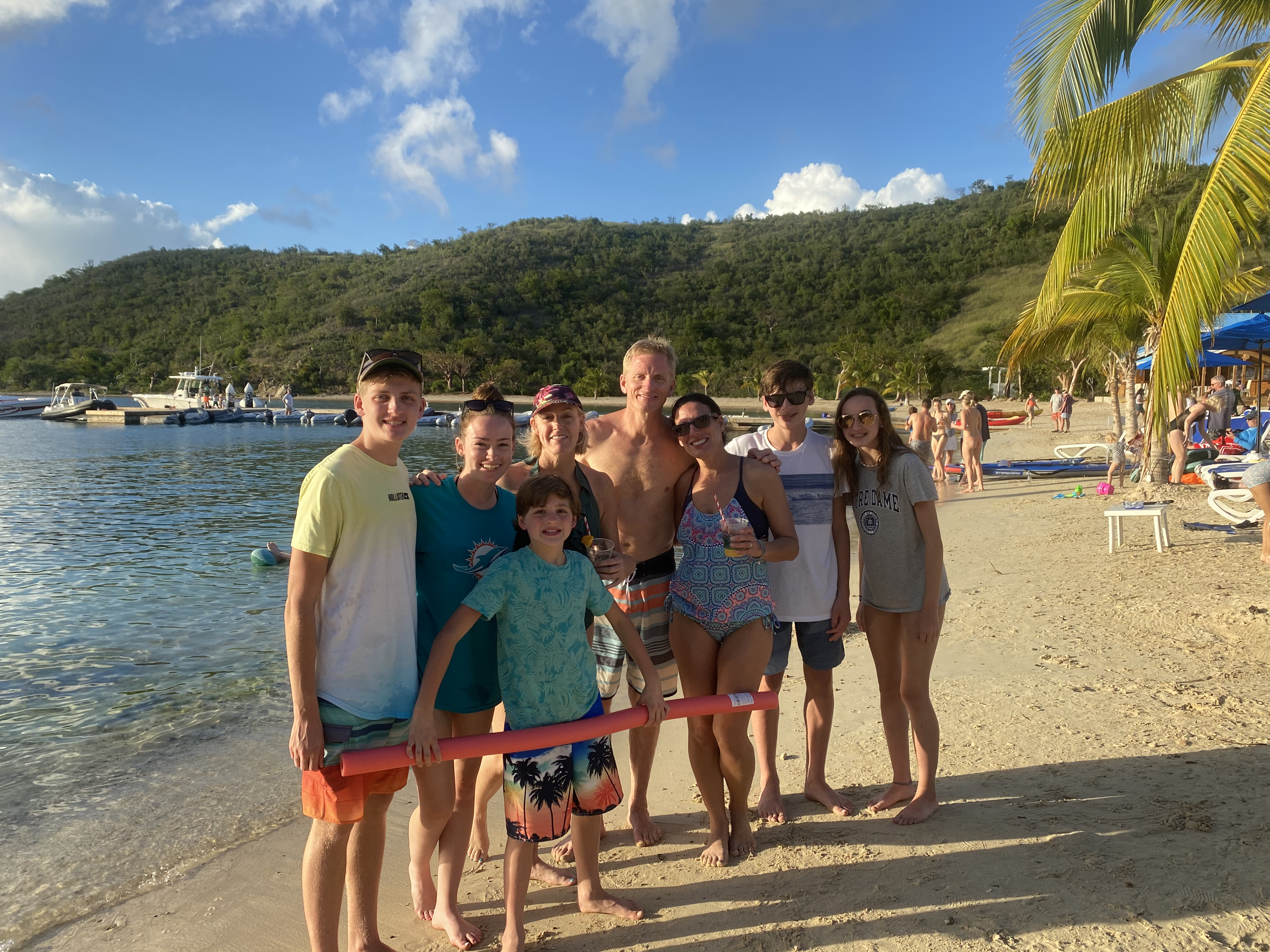 Love Shack and Pain Killers
No moorings at The Indians, so off to the caves at Norman Island!  Snorkeling was awesome ….  and after we headed over to the Bight. After fending off the British fighting for our mooring ball (long story!) we found ourselves taste-testing Pain Killers and dancing to "Love shack" off the back of the boat while the kids frowned.  And that's all I remember. ha.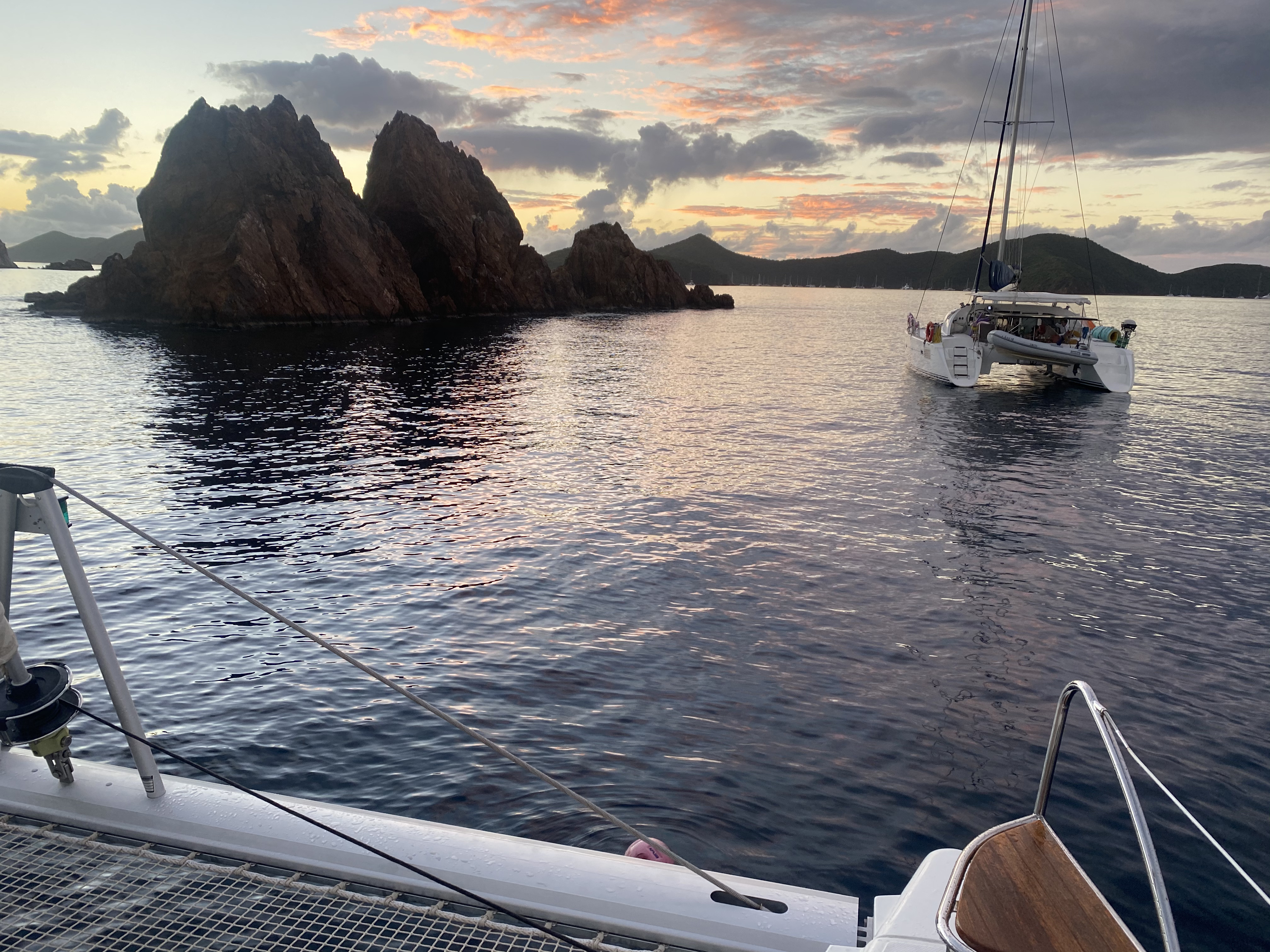 18 Years and an Octopus
I awoke early the next morning which happened to be our 18th wedding anniversary. I was hoping to be the 1st boat at the Indians. It was about 630 am when I saw another catamaran steaming out of The Bight. Uh OH, better get moving. Sure enough the cat 'Mango" had taken the 1st and best mooring. We slid in second place right beside him and had a spectacular spot to take in some of the best snorkeling Evah! Octopus sighting- check!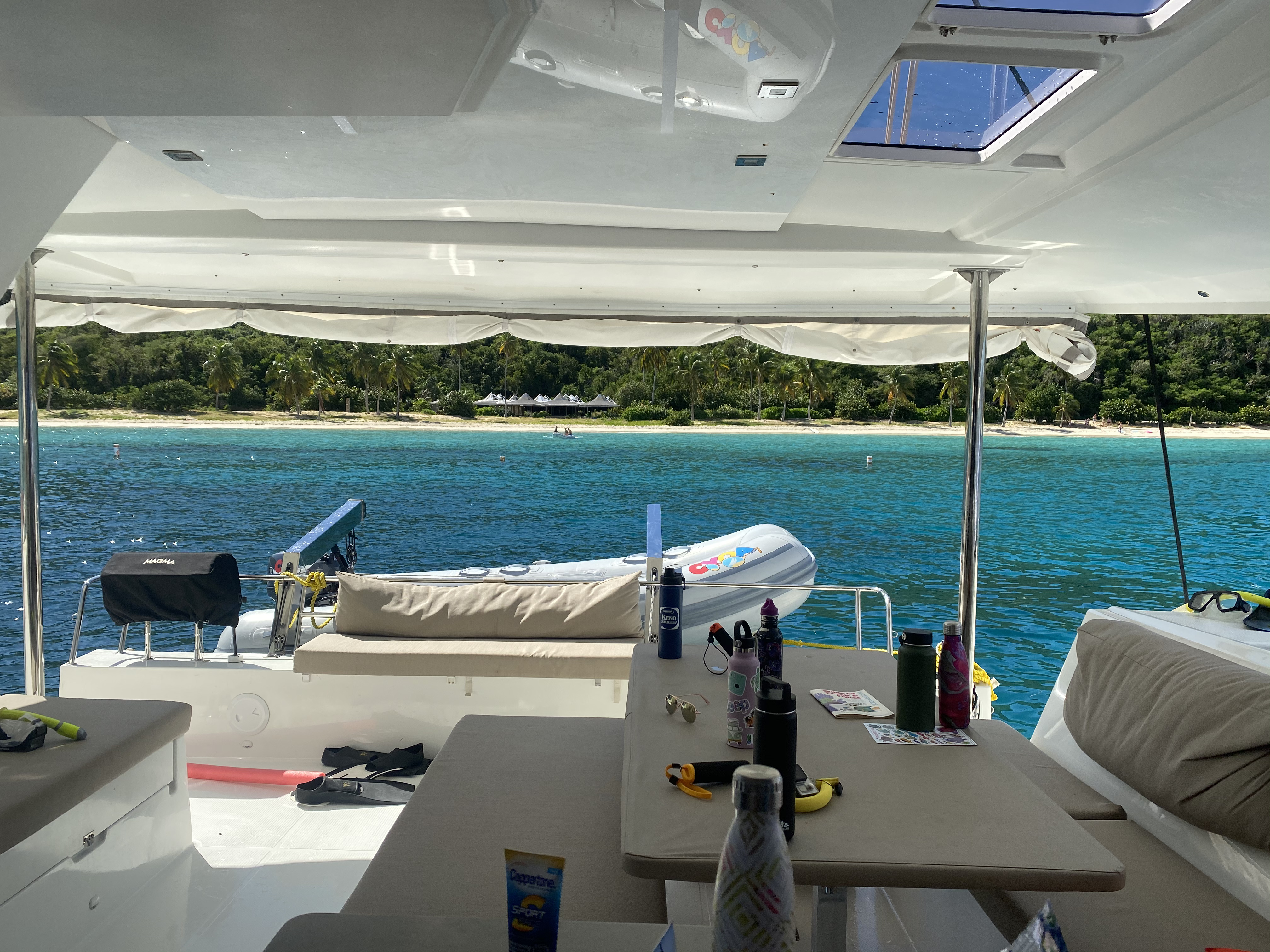 Security Guard Chat
We steamed into Dead Mans Bay around 11am or so. Dropped the hook, and the crew hit the beach. I stayed on board to tidy up a few things and prepare lunch. What a beautiful spot. The resort there was still closed from the hurricanes and they had stationed a security guard on the island to keep folks out of the structures. He said they were expecting to reopen in two years. Finished the day with an adult-only dinghy ride in to the cocktail bar!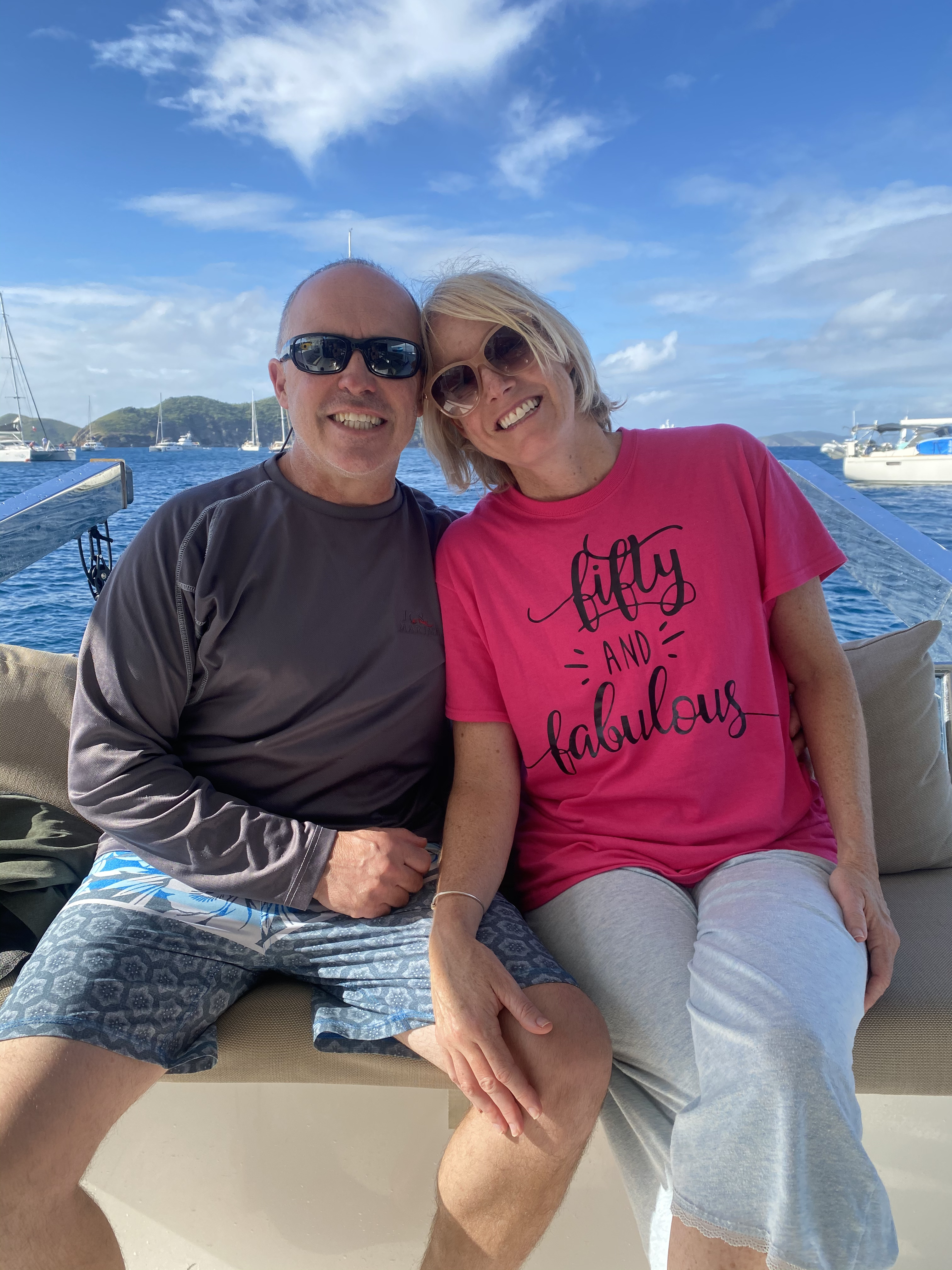 50 in 30 knots
Janine brought her 50th birthday in with a bang. The hull was banging, the water bottles were banging, and the spray was coming all the way up to the helm as we steamed east towards Cooper Island. It was blowing 20-30 knots and seas were 4-6' with the occasional 6-8'. Kinda like a steep Buzzards Bay sea state. I had my hat on tight, and a dish towel wrapped around my face to prevent the salt water from stinging my eyes.  We made it ashore safely after dodging a few cruise ships and picking up the last mooring in Cooper Island and we capped off the day with a terrific dinner at the Beach Club where both my girls had Mahi Mahi for the first time.
New Years Eve Bath Fun
No trip to the BVIs is complete without an exploration of The Baths. After dodging a Disney Cruise full of passengers we meandered down to the water and discovered a herd of turtles. Later we headed over to the fancy Scrub Island resort for some water trampolining, swimming and Pain Killer consumption. We were blessed with a beautiful sunset and happy kids. Back to the boat for another dance party and a New Years Eve "beach ball" dropping at….10:00 pm? Wait, what?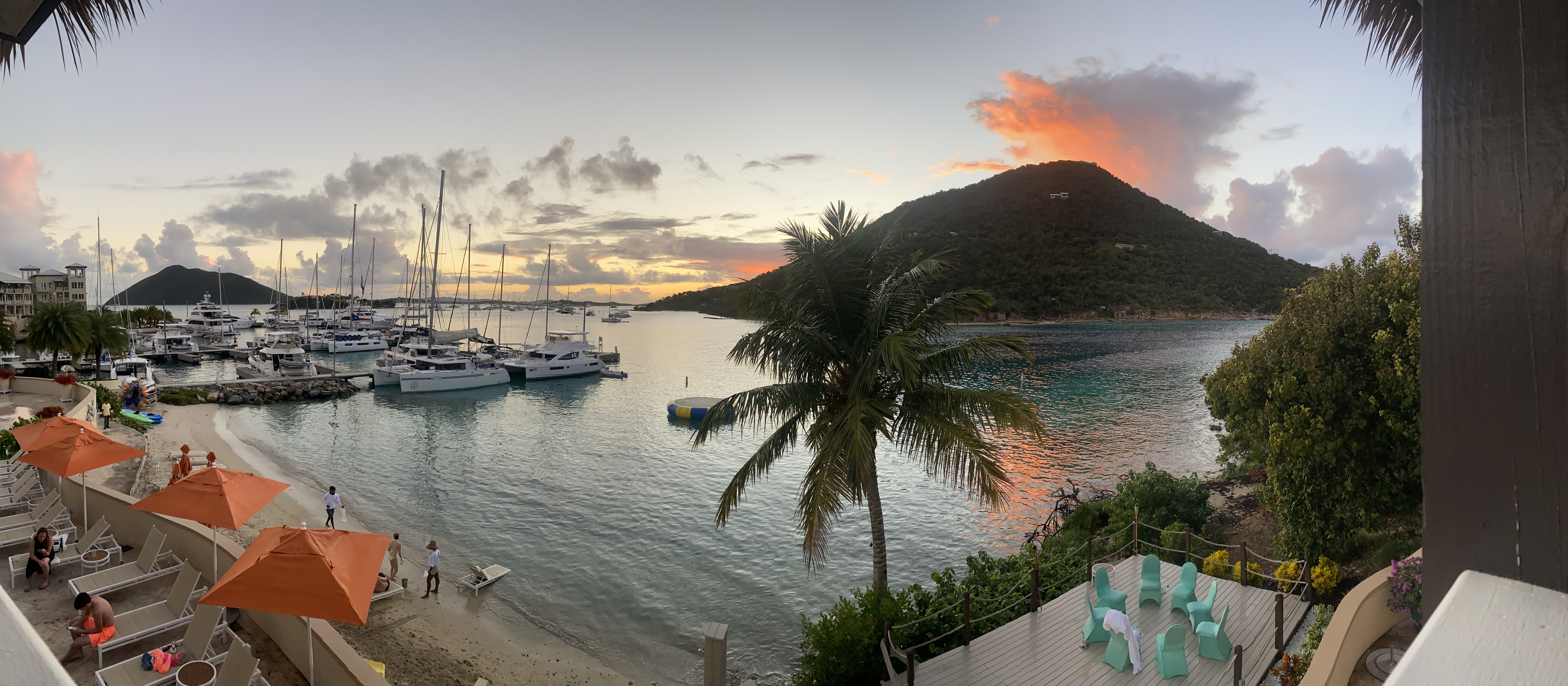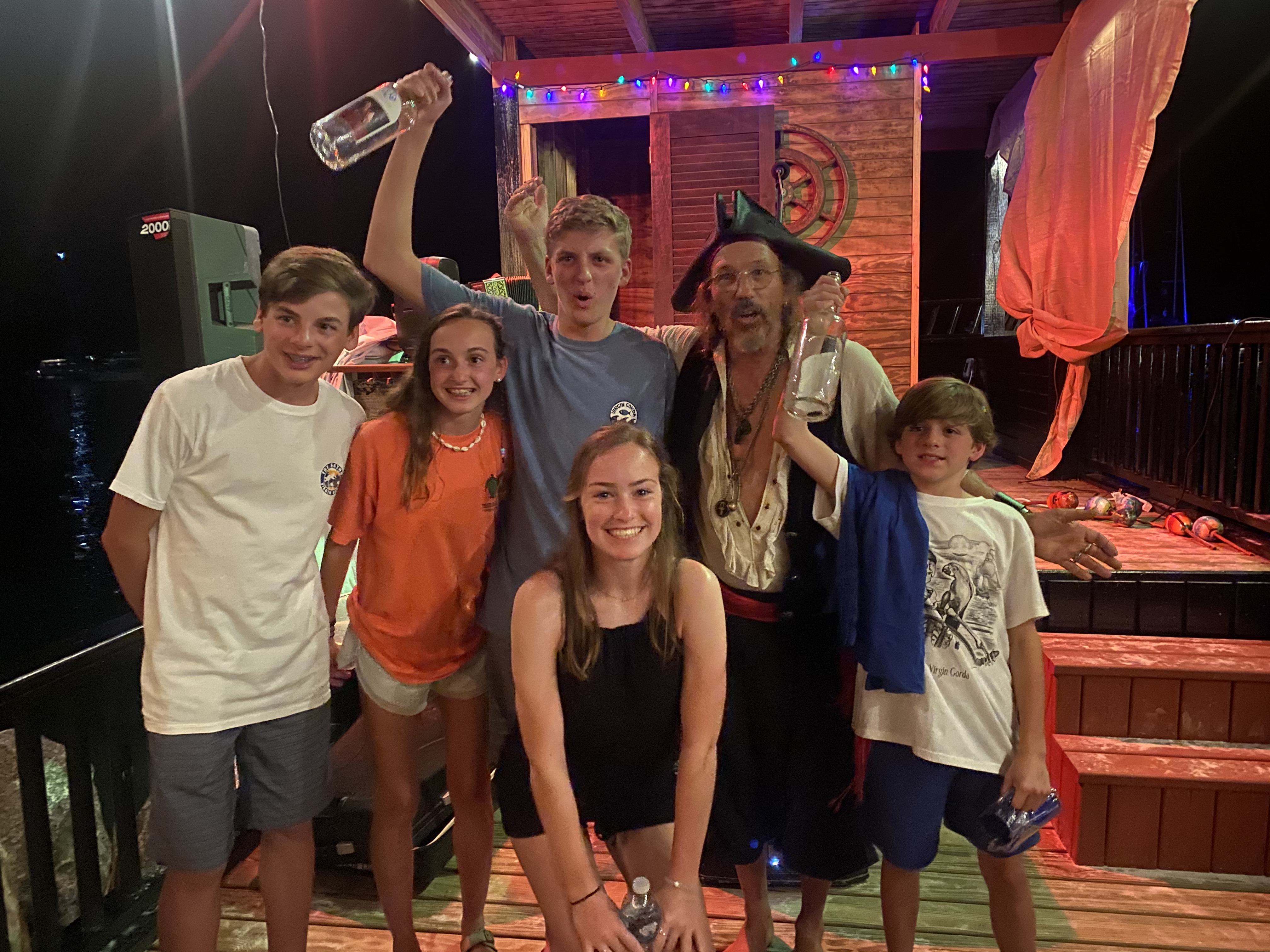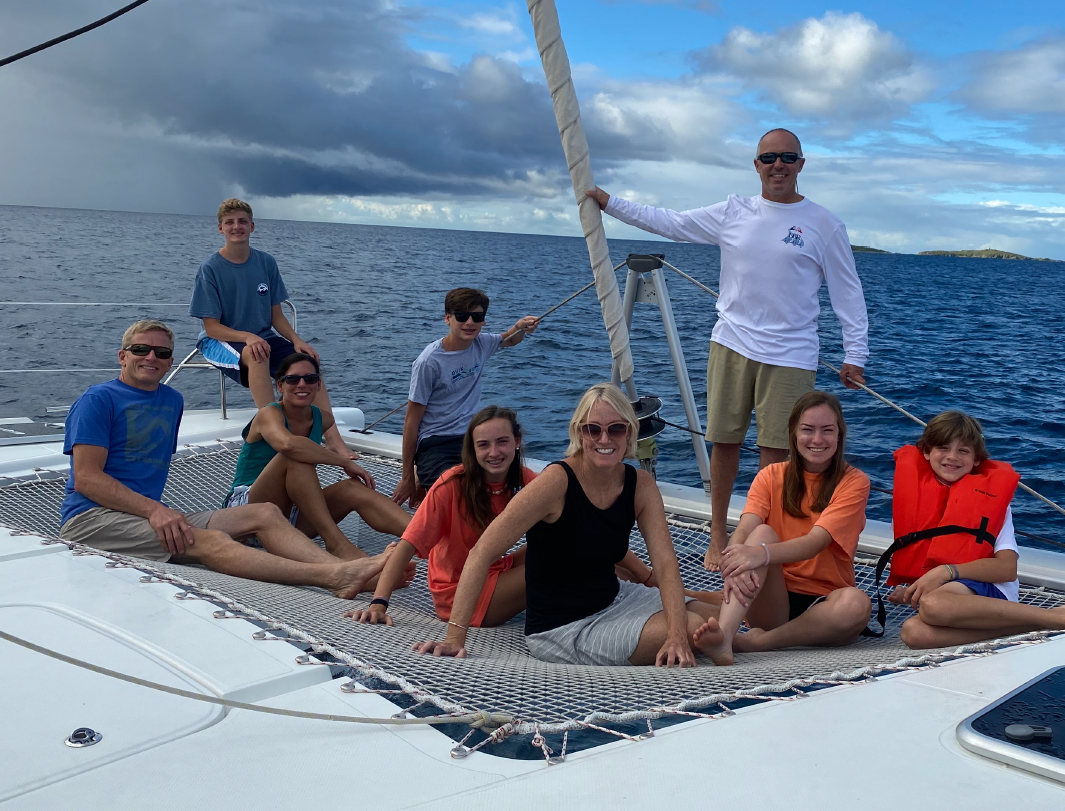 "The Time of my life"
The next few days brought about a tarpon feeding frenzy, serious bow jumping maneuvers, a pirate show, some glorious sailing and an intense snorkel with a sea turtle for a while who didn't mind me filming his every move (that was a highlight for me of the trip. Its very surreal to swim with sea life in their habitat). Our arrival to the entrance to Charlotte Amalie came a bit too quick so I tacked the rig south bound for one more jaunt before entering the harbor. We entered the west side of the harbor to enjoy every last moment when the skies opened up to give us one more tropical shower as we pulled up to the CYOA base. Soon the debriefing
started and we had to pack up our stuff for the long trek home. I could not have asked for a better week, and better crew than "Team Dyer", and "Team Wodzinski".